O Holy Night
Marjorie Stelmach (b. 1948)
Ephesians 4:31 – Let all bitterness and wrath
and anger…be put away from you…

In the easement,
stripped trees daven apathetically
under a skull-cap sky.
Oh, Child,
are you sure? This world?
This bleak winter?
These unconscionable times?

The last of the day's feeble sun
steeps the holly,
staining its berries a rich
crimson
as bright and slick
as a seasoned trickster, then
slips off the edge of the earth,

leaving to us this night,
first among too many nights
we've marked
and mean,
every year, to find holy.
It's getting old, this act.
Or maybe it's me. Lately,

I'm all lapse and misstep.
And yet, love's tiny fist seeks out
my heart with the old entreaty,
and yearly
I somehow let in love enough
to try again: to call our people
decent, our planet worthy.

(2019)
***
Luke 2:1-7 (NIV)

In those days a decree went out from Emperor Augustus that all the world should be registered. This was the first registration and was taken while Quirinius was governor of Syria. All went to their own towns to be registered. Joseph also went from the town of Nazareth in Galilee to Judea, to the city of David called Bethlehem, because he was descended from the house and family of David. He went to be registered with Mary, to whom he was engaged and who was expecting a child. While they were there, the time came for her to deliver her child. And she gave birth to her firstborn son and wrapped him in bands of cloth, and laid him in a manger, because there was no place for them in the inn.
***
Ephesians 4:31-32 (NIV)

Get rid of all bitterness, rage and anger, brawling and slander, along with every form of malice. Be kind and compassionate to one another, forgiving each other, just as in Christ God forgave you.
***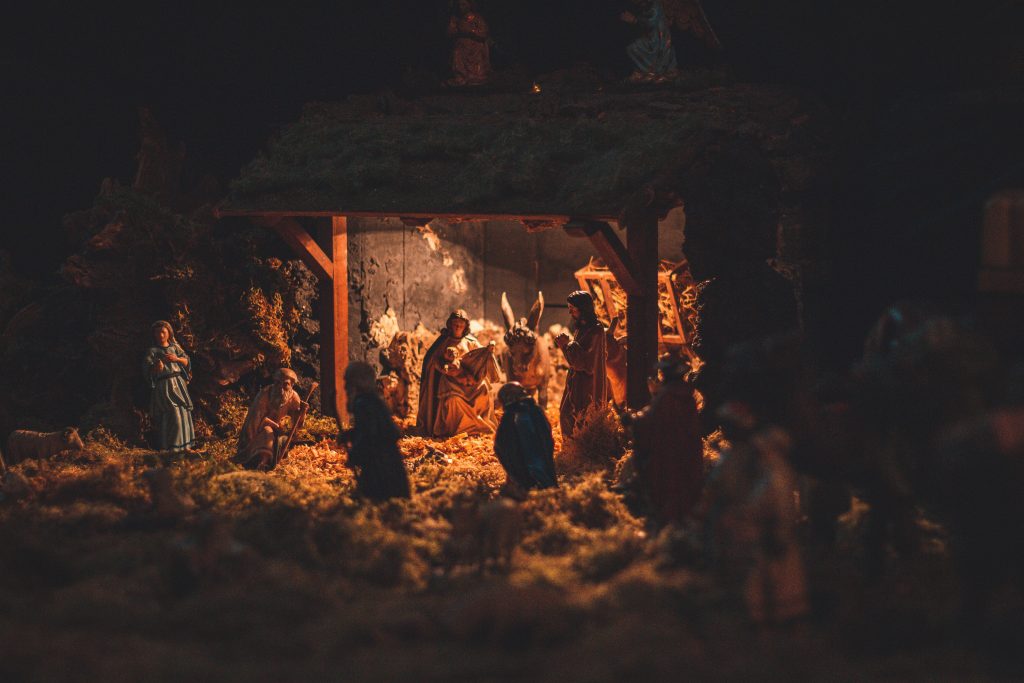 ***
Marjorie Stelmach is an American poet who has served as a high school English teacher for over 30 years. She previously served as director of a writing scholars programme at Washington University and as a visiting poet at the University of Missouri. Her poems have been awarded the Chad Walsh Prize and the Marianne Moore Prize and have been anthologised in various collections of Christian poetry. Amidst the season of Advent, I thought it apt to take a look at her poem 'O Holy Night', itself prefaced by a verse from Ephesians 4: 'Let all bitterness and wrath / and anger… be put away from you.'

Stelmach's poem opens with a vivid depiction of winter, 'stripped trees daven apathetically', making unenthused prayers, under a 'skull-cap sky'. Stelmach weaves visual and tactile imagery to give a sense of winter's barrenness and the protections needed to withstand it. Her poem continues in lines of rhetorical questioning: 'Oh, Child, are you sure? This world? […] These unconscionable times?' There is a universality embedded in this particularity, for the question of present evil is one that is unlikely to dissolve in any epoch of human existence. I was reminded of Robert Southwell's poem 'The Burning Babe', itself expressing a similar ambivalence to the notion that a child would be born, condemned to suffer for an often-ungrateful world.

The poem continues with an image of curious metaphysics, how the 'last of the day's feeble sun' stains the holly's 'berries a rich / crimson /as bright and slick / as a seasoned trickster.' The personification of the berries and the holly, recognisable images of Yuletide in the Euro-American world, is unflattering – almost deceitful in its aesthetic appeal. The passage of day to night, described as slipping 'off the edge of the earth', intuits a sudden, jarring fold to 'night'. The speaker's voice is imbued with a certain cynicism toward nights that 'we've marked / and mean, /every year, to find holy', an act that is 'getting old'. The interjections of the spaced lines help to foreground this sense of a stilted procession of thought, not unlike the contemplative poems of Thomas Traherne.

The poem's return to a kind of hopefulness arrives in its last stanza. From the speaker's remark that 'I'm all lapse and misstep', the poem moves toward addressing the stubbornness of 'love's tiny fist' seeking out 'my heart with the old entreaty'. The injunction of Christmas is to remember the humility and sacrifice of God taking on flesh and mortal vulnerability, or as the singer Bono describes it:

'if there is a force of love and logic behind the universe, then how amazing would it be if that incomprehensible power chose to express itself as a child born in shit and straw poverty.'

It is in the utter incomprehensibility of the nativity in which its power resides. It is just enough to stir the speaker's heart as she remarks, 'yearly / I somehow let in love enough to try again: to call our people / decent, our planet worthy.' To consider the marvel, the wonder, and the mystery of the nativity is to be brought back to the immediacy of God's love. It is expressed in his indwelling in the flesh, a cosmic, transcendent love that chose to make itself immanent and physical.

As we look toward Christmas and the mystery of the birth of Jesus Christ, how can we remember what it is to hold to faith, hope, and love in our broken world?
***
© 2019 Marjorie Stelmach